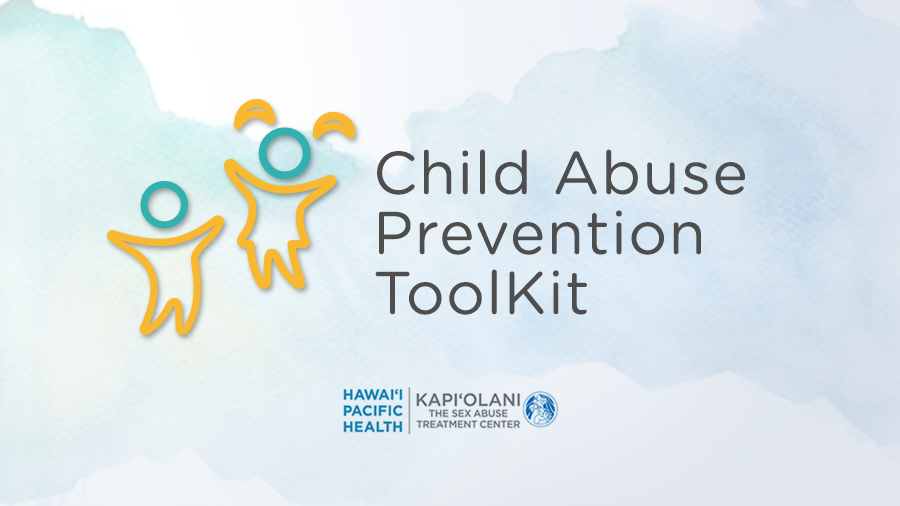 Child Sexual Abuse Prevention Toolkit
How Can I Protect My Child From Sexual Abuse?
Learn the facts about this serious crime.
Educate your child on personal safety.
Monitor your child's relationships with others.
Child sexual abuse
is sexual activity between an adult and a child or between two minors if there is a significant age, size or power difference between them. It can include a range of activities such as sexual touching, sexualized talk, exposure to genitals, rape and involvement in pornography or prostitution.
Over 50% of victims served at The Sex Abuse Treatment Center are under age 17 at the time of the abuse.
Children are nearly always abused by someone they know. In over 90% of sexual abuse cases, abusers develop a close, trusting relationship with the targeted child prior to abusing them.
Physical force is rarely used. Most children are tricked and manipulated into sexual abuse through the use of affection, special attention, gifts, etc.
Many children don't tell. Abusers typically threaten or trick children into keeping the abuse a secret.
The impacts of child sexual abuse are serious. Victims often experience fear, shame, loss of self-esteem and depression. They are at increased risk for suicide and many struggle with problems such as eating disorders, substance abuse and relationship difficulties. With treatment and support, however, many child victims can recover.
For more information on:
How to Respond if a Child Discloses Sexual Abuse
Listen. A child may share their experience in detail or say little about the abuse. Try to avoid asking "why" questions because this can make the child feel as though they did something wrong.
Believe them. When a child discloses sexual abuse, believe what they say. It is often difficult for a child to talk about the abuse because the abuser is usually someone the child knows and trusted. The child may be fearful that they won't be believed or scared about what the abuser will do. Believing a child is the first step to their recovery.
Stay calm. You may experience strong feelings when you hear a child talk about being abused. Showing the child that you are calm will help ease their fears and make the experience of sharing easier for them.
Let them know that it wasn't their fault. Children often feel that the abuse was their fault because they didn't say no or tell the abuser to stop right away. Reassuring a child that it wasn't their fault relieves them of the burden of self-blame.
Let things return to normal. After a child tells you about the abuse that happened to them, comfort them, ensure their safety and let them return to their normal activities as soon as possible. Focusing on the abuse or continual questioning can further traumatize them.
Access help. For information, support and treatment services call the Sex Abuse Treatment Center's 24/7 crisis hotline: 524 -7273.
Sexual Abuse Is Never a Child's Fault
Adults know that sexual abuse is wrong and against the law.
A child is too young to give permission for sexual touching.


All children need to know
"it's never the child's fault even if...
...you really like the person who touched you."
...the person told you it was your fault."
...you liked the attention the person was giving you."
...you might have been curious about the touching."
...you kind of knew the touching wasn't okay."
...you kept being the person's friend after the touching started."
...sometimes the touching felt good."
...you had to touch the person's private parts."
...you didn't tell someone about the touching right away."
...you received presents or money from the person who touched you."