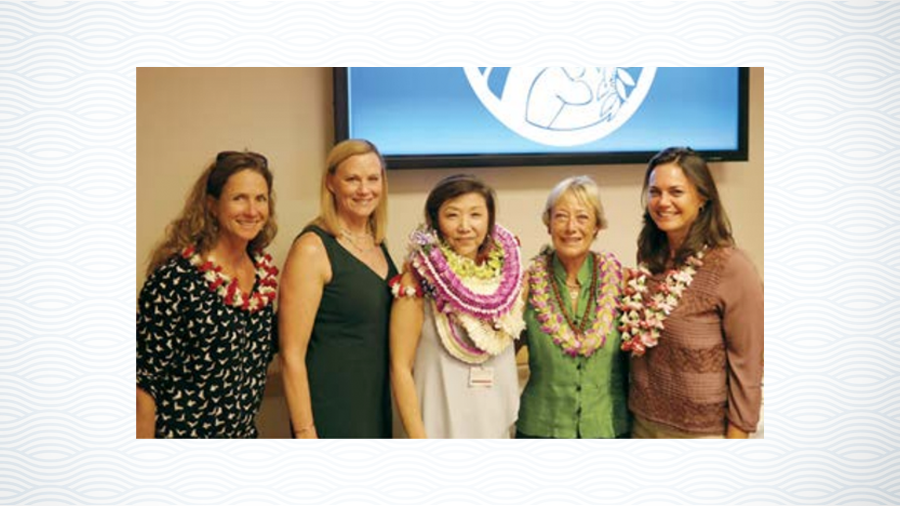 Kapi'olani Medical Center's 2015 Emma Kauikeolani Wilcox Award
Cindy Shimomi-Saito, The Sex Abuse Treatment Center's associate director, won Kapi'olani Medical Center for Women & Children's annual Emma Kauikeolani Wilcox Award and was honored at a ceremony on Dec. 1, 2015.
In 1909, at a time when two of every seven infants in Hawai'i did not live to see their first birthday, Albert and Emma Kauikeolani Wilcox donated the funds to open Kauikeolani Children's Hospital. In 1978, Kauikeolani Children's Hospital merged with Kapi'olani Hospital, then a facility focused primarily on women's health and maternity, to become Kapi'olani Medical Center for Women & Children.
In memory of Albert and Emma's incredible, life-saving gift, each year their descendants and senior members of Kapi'olani's healthcare team recognize a hospital employee who demonstrates exemplary service and commitment to the care of children.
Cindy directs and manages SATC's 24/7 response system for sexual assault cases, overseeing crisis services and medical care for victims who come to Kapi'olani, and has been instrumental in improving Hawai'i's statewide response system for survivors of sexual violence and their families.
In selecting Cindy as the 2015 award recipient, the Wilcox family and Kapi'olani specifically recognized her tireless and dedicated advocacy for young victims of sexual assault, and her important and lasting contributions to the healthcare of children across the islands.